Product Description:
Automatically detecting and supplying power for powered devices conformed to IEEEE 802. 3af/at PoE++/HiPoE, unmanaged PoE switch (Ai-version) supports first port output HiPoE_ 60W. Having the function of PoEdog and HiPoE, Port 1-4 can support the watchdog function. When the port communication failure corresponds to the port POE will automatically restart, self-recover network communication, reducing manual intervention and maintenance, it can solve the problems that restart the machine annually on the spot and installation requirements on multiple switches.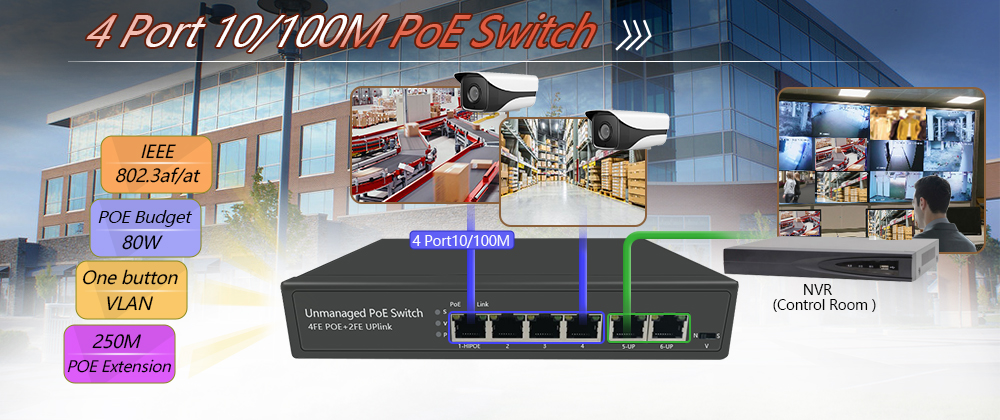 Features:
² 4*10/100mbps POE port,2*10/100mbps UP Link port
² 250m Distance
² Ai Version: PoE dog (automagical real-time detection of powered devices status; when the device is abnormal, the switch automatically sets the port and restores PoE power supply .
² Support IEEE802.3AF/AT PoE++/HiPoE
² Support first port outputs HiPoE_60W).
² Whole Power:80W
² All port supported by MDI/MDIX auto flip and self negotiation
² Supply 4 10/100Mpbs adaptive high speed forwarding data packet non-lost port.
² Support IEEE802.3x flow control for Full-duplex mode and backpressure for Half-duplex mode.
² Each port max. power supply reached 30W.