Description:
The OLT-E2004S series is a high integrated, medium capacity box ERON OLT switching equipment for the operator access and enterprise park network.The product follows IEEE802.3ah technical standard and meets the requirements of EPON OLT equipment in "YD/T 1475-2006 access network technical requirements". It has good openness, large capacity, high reliability and complete software functions. It is widely used in the construction of network coverage, special network construction, enterprise network park access and other access network construction。


Advantage:

 EPON:OLT follows the technical standard of IEEE802.3ah and China telecom. (YD/T 1475-2006)
 Capacity: Each PON supports up to 64 terminals, the whole device supports up to 256 ONUs under full configuration.
 Uplink: support electrical and optical modules, can be flexibly configured according to different networking.
 Dimension: 1U cassette save space, low power consumption and save cost.
 Optical Line Protection: support automatically switch when the line is debug.
 High reliability: supports dual power supply(Default single power supply).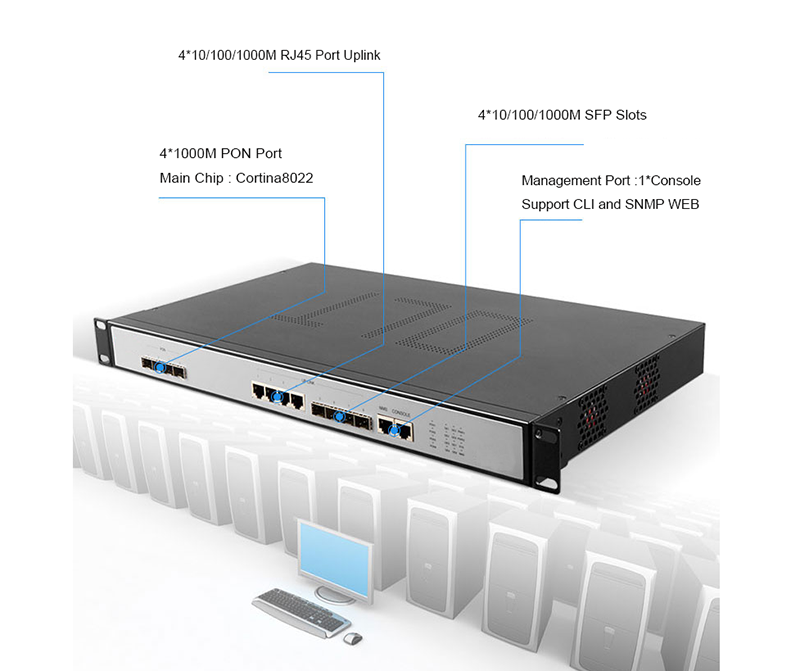 Feature:
 Aggregation layer switch. Layer wire-speed forwarding, support for rich layer protocol.
 16K MAC address table.
 4uplink ports, port aggregation through the largest available 4G uplink bandwidth.
 Complete network management functions
 Support flexible DBA, up and down traffic speed.
 Support IP ToS, IEEE802.1Q
 Port-based traffic control, traffic shaping.
 Support ONU automatic identification, auto-discovery, and auto-registration.
 Single link to support the automatic loop-back test function.
 VLAN powerful features, including VLAN Stacking, Trunk, Translation.
 Flexible and controllable multicast support, support IGMP snooping.
 Support ACL