24V 8-Port Gigabit Non-standard managed PoE Switch
Model:TS8108PM
TS8108PM series is a non-standard PoE switch independently developed by GXCOM. It has 8* 10/100/1000M RJ45 ports . Port 1-7 can support 24V non-standard PoE power supply, single-port PoE power up to 15.4W. total power is 120W. As a non-standard PoE power supply device, it must be connected to the corresponding non-standard electrical equipment (such as a wireless bridge), or the corresponding non-standard separation line to convert, and then achieve the PoE power supply. It can supply power to various adaptable terminals through network cables to meet the demand for high density PoE power supply network environment. It is suitable for hotels, campuses, factory dormitories, and small and medium-sized enterprises to establish cost-effective networks.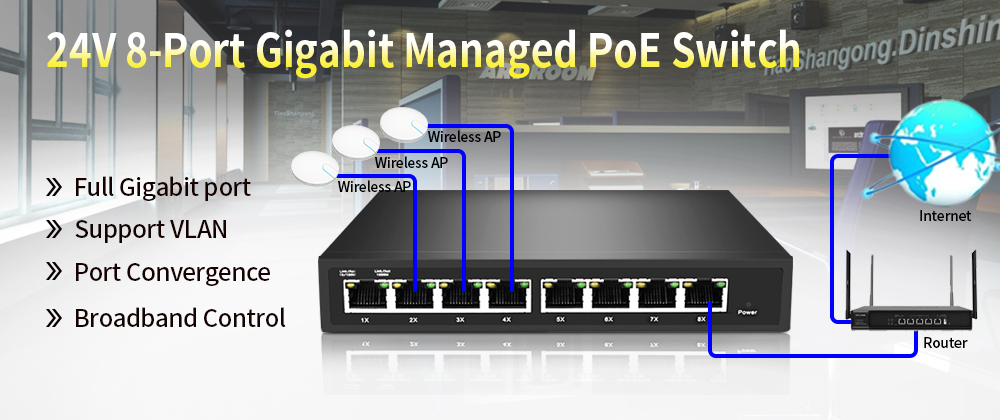 FEATURE
◇
Provides 8*10/100M/1000M RJ45 ports , which is more convenient for users to flexibly set up to meet the network requirements of various scenarios.
◇
All ports support non-blocking wire-speed forwarding for smoother transmission.
◇
Support IEEE 802.3x full-duplex flow control and Backpressure half-duplex flow control.
Intelligent PoE power supply function
◇
8*10/100Base-TX RJ45 ports support 24V PoE power supply, which meets the needs of PoE power supply in various scenarios in the security field.
◇
The maximum PoE output power is 120W, and the maximum PoE output power of single port is 30W.
◇
It can quickly realize the power supply function of POE cable through the two ways of switching directly to non standard electrical equipment or switch + non standard separation line.