8-Port 10/100M POE Switch With Uplink 1 Gigabit RJ45 port+1Gigabit SFP port

MODEL:TS6209P


Product Description:
The 8 ports Standard POE switch provides power and data to wireless access point and IP camera, using Power over Ethernet(PoE) over a single Cat-5 cable. The 8 Ethernet ports can be used for any 10/100 Mbps link and also can supply industry-standard IEEE 802.3af power. Advanced Auto detection gives power only to 802.3af powered devices, so no need to worry about damaging proprietary PoE or non-PoE equipment. In addition, it discontinues the power when PoE devices are disconnected. Easy and reliable, the standard automatically determines PoE requirements, speed, duplex, and cable type using Auto detection.
Easy Cabling Installation
With data and power over Ethernet from one unit, The poe switch shall reduce cables and eliminates the need for dedicated electrical outlets on the wall, ceiling or any unreachable place. A wire carries both data and power lowering the installation costs, simplifying the installation effort and eliminating the need for electricians or extension cords. It is a great selection for expanding your home or office network.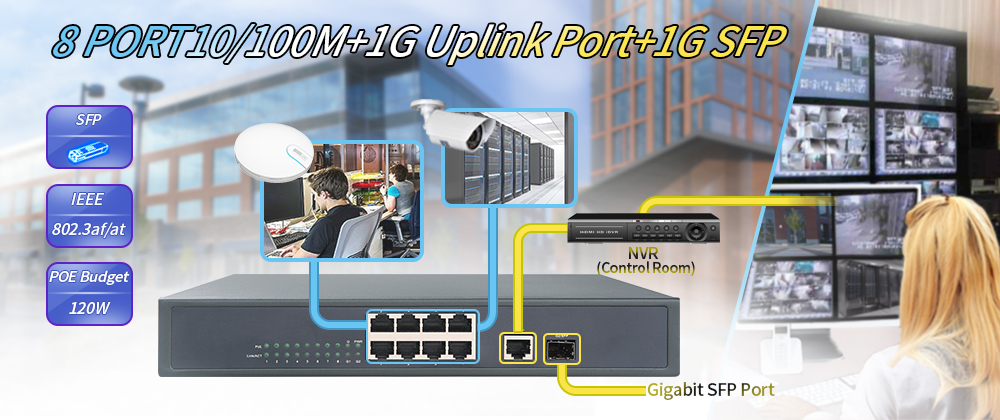 Features:
8*10/100mbps POE port;1*100/1000M RJ45 and 1*100/1000M SFP ports
REALTEK Chipset
Support IEEE802.3AF/AT
Whole Power:120W
All port supported by MDI/MDIX auto flip and self negotiation
Supply 8 10/100Mpbs adaptive high speed forwarding data packet non-lost port.
Support IEEE802.3x flow control for Full-duplex mode and backpressure for Half-duplex mode.
Each port max. power supply reached 30W..