24-Port 10/100/1000M PoE Swtich With 2 gigabit SFP Port

MODEL:TS8224P-2F

Product description

Independently developed and researched by GXCOM, TS8224P-2F is an unmanaged PoE switch that 24 gigabit ports support PoE and complies to IEEE 802.3af/at.The whole device PoE output power can ahcieve 400W with its single port PoE power up to 30W.Supporting standard normal, flow control and VLAN(port isolation) modes, the switch can adapt to multiple and complex environments.As a PoE power supply device,it can automatically detect and supply power for powered devices suitable for PoE standard.Having the features of "play and plug",no need of configuration and easier and more convenient usage, TS8224P-2F is satisfied in network environment required high-density PoE supplying power and adapts to construction of economic and efficient network in hotels ,schools,factory areas,domitories and small enterprises.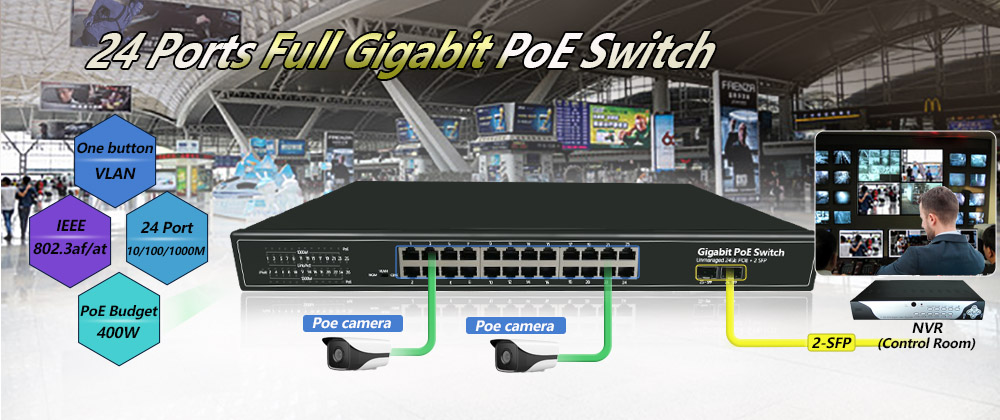 Full Gigabit Port

24*10/100/1000M PoE port+2*1000M SFP

All ports support non-blocking transmission at wirespeed

Support IEEE 802.3x and Backpressure


PoE Function


24*10/100/1000M PoE port(satisified in environment in security monitoring, phone meeting system and wireless coverage.

Complied to IEEE 802.3af/at,whole device PoE output power up to 400W(first port can optionally output HiPoE_60W and other single port PoE power up to 30W)

Automatically detect and supply power for PoE devices

Priority mechanism(prior protection on port power supply)



Operating Modes


NOM---Standard Normal(all ports communicate freely and adapts to common transmission environment)

CENK---Flow control(port flow balancing control to prevent data packet loss)

VLAN---Port isolation(24 gigabit ports isolate from each other and suitable for using environment connected to wireless AP to suppress network storm and promote network performance.)


Reliable and Stable


Lower consumption design and stronger heat dissipation

Adopt power with high redundancy design

Comply to CCC standard
Easy Operation
Play and plug,no need of configuration

User can comprehend easily the device operating status through power indicator(PWR),port status indicator(Link/Act) and speed indicator(1000Mbps).