FTTH Solution - Bring The Fiber to Home
With the demands of user keeping changs,the fiber optic network solution was created and becomes more and more popular.
A
ccording to data in recent years, optical fiber access has become a hotspot in the field of optical communication.
Today,we'd like to introduce the basic info of FTTH(The Fiber To Home) solution.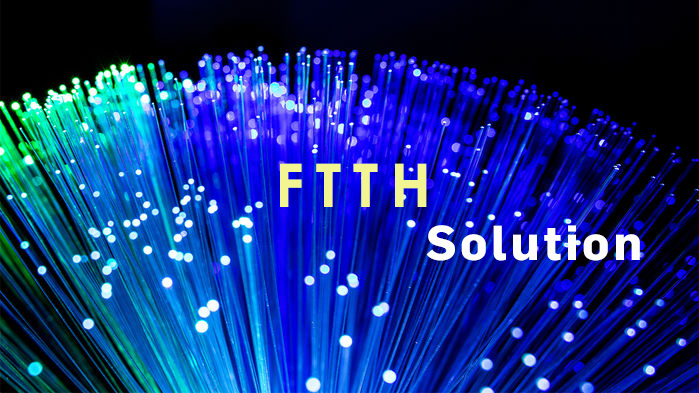 What is FTTx Solution?
PON access system should be an all-optical solution in response to the continuously growing bandwidth requirements in the last-mile (access) domain. PON-based access network follows the trend of delivery of triple-play services to end subscribers, aggregating three types of services over a single delivery platform. This in turns is the next step in the evolution of the core networks to IP-based NGN. In order to build the new generation of optical access networks, this solution draws on the technologies of different maturity extents such as EPON, GPON, Ethernet and xDSL, ranging from local exchange devices of various capacities to serialized user-side devices. It can be deployed in various application scenarios, such as FTTC, FTTB, FTTO and FTTH, enabling operators to deliver services in a simple and straightforward manner, providing cost-effective highbandwidth and multi-service support capabilities. This allows operators to become more competitive and adapt services to ever changing customer demands.
FTTH (Fiber to household) is the final form of optical fiber access network development. Optical fiber access Network in the location of optical network units, divided into FTTH (fiber to Home), FTTB (fiber to the building), fiber-to-the (optical fiber to the station) and FTTC (fiber to the roadside) and other conditions.
Fiber to the Home(FTTH) Market by Applications:

The following lists the advantages of PON:
● Reduced cost. The equipment and fiber at the CO are shared by users, so the cost is lower. Because equipment room and power supply are not needed, the capital construction cost is greatly reduced. The cable distribution at the CO is easy.
● Easy maintenance. The active equipment is removed form the access network, so the effect from electromagnetic interference, thunder and lightning is reduced. Thus, the failure rate of the line and the external equipment is reduced. Therefore, the operation and maintenance cost is reduced. PON is most widely accepted by main Operators in the world. It is first technology choice and the trend of OAN. So we analyze the FTTx networking models that based on the fiber cable and PON technology in this document.
What main equipment involved in the FTTH solution?
For examples,one simple FTTH solution based EPON technology will be created. There will be mainly EPON OLT and EPON ONT/ONU devices.
If you're ISP(Internet Service Provider),reverse PoE switch muse be a good option to bring you fast networking,easy operation and low cost.
As below Figure showing: